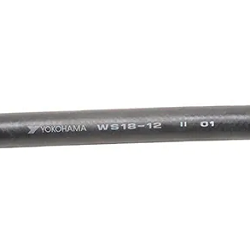 yokohama
WS18Z-12 socket less hose
Quick and easy assembly
Ask for price
Features
Quick and easy assembly: Only cut a hose to the required length and insert fitting (WS18 Stockless Reusable fitting) after lubricating it.
Fittings can be reusable. All fittings are reusable. Even if a hose is damaged, the metal fittings can be reused unless there is a deformation or flaw on them.
Reduce inventory: As the hoses can be assembled easily, there is no need to stock hose assemblies of a specific length and fittings.
You can stock hoses and fittings separately and can reduce inventory.
Construction
lnner Tube : Oil resistance synthetic rubber
Reinforcement : High-tensile steel wire
Outer Cover : weather-resistant synthetic rubber
Applications
General-use working oil, lubrication oil, fuel oil, and air.
Operating temperature range
-40˚C ~ 199˚F(Oil), ~ 158˚F(Air), ~ 140˚F(Water) / -40˚C ~ 93˚C(Oil), ~ 70˚C(Air), ~ 60˚C(Water)
Specifications
| | |
| --- | --- |
| Inner diameter | 19.0mm / 3/4inch |
| Outer diameter | 26.2mm |
| Reinforcement | 1Y/B |
| Maximum working pressure | 1.8Mpa |
| Minimum burst pressure | 7.0Mpa |
| Minimum bend radius | 178mm |
| Weight per Meter | 340g |