About us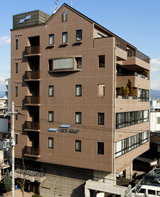 Established in 1948, Sankyo Seiki Co., Ltd. is a commercial company that provides cutting tools, machine tools, measuring instruments, etc. to manufacturing factories located in Japan and abroad. Using these tools and machinery, our customers produce various kinds of industrial products, such as cars, airplanes, medical apparatuses, smart phones, electronic devices as well as their precise parts.
Company name
Sankyo Seiki Co., Ltd.
Founded
1942
Capital
10 million JPY
President
Daisuke Ito
Number of employees
70
Kyoto HQ
Kujō-chō 49, Kisshōin, Minami-ku, Kyōto-shi, Kyōto, Japan 601-8328
TEL: +81-75-681-5713 FAX: +81-75-672-5430
Nagoya office
Nozomigaoka 324-4, Meitō-ku, Nagoya-shi, Aichi, Japan 465-0046
TEL: +81-52-771-5077 FAX: +81-52-771-5078
Shiga office
Anyōji 2-6-7, Rittō-shi, Shiga, Japan 520-3015
TEL: +81-77-552-3770 FAX: +81-77-553-7124
Okayama office
Noda 3-16-22, Kita-Ku, Okayama-shi, Okayama, Japan 700-0971
TEL: +81-86-245-3180 FAX: +81-86-805-1656
Sankyo Machine Tools Malaysia SDN BHD
B-28-19, Mercu Summer Suite, Jalan Cendana 8, off Jalan Sultan Ismail, 50250 Kuala Lumpur, Malaysia
TEL: +603-2720-9719 FAX: +603-2720-9720
Download company profile
Over 300 manufacturers available

including:
Adex Aile Co., Ltd.

Amada Miyachi Co., Ltd.

Amano Corp.

Apollo Seiko Ltd.

Big Daishowa Seiki Co., Ltd.

Chiko Airtec Co., Ltd.

Chino Corp.

Cosel Co., Ltd.

Futamura Machines & Tools Co., Ltd.

Graphtec Corp.

Hioki E. E. Corp.

Hios Inc.

Idec Corp.

Imada Inc.

Imao Corp.

Iwaki Co., Ltd.

Metrol Co., Ltd.

Mitsubishi Electric Corp.

Mitutoyo Corp.

Musashi Engineering Inc.

Nikon Corp.

Nippon Busch K. K..

Nireco Corp.

NOK Corp.

Ono Sokki Co., Ltd.

Oriental Motor Co., Ltd.

OSG Corp.

Nippon Pillar Packing Co., Ltd.

Schneider Electric Holdings Ltd.

Rion Co., Ltd.

Ceracote Co., Ltd.

Showa Giken Industrial Co., Ltd.

Sigma Electronics Co., Ltd.

SMC Corp.

Taiyo Ltd.

T&D Corp.

TDK-Lambda Corp.
Some of our clients
Blue Energy Co., Ltd.

Canon Machinery Inc.

GS Yuasa International Ltd.

Gunze Ltd.

Hitachi Chemical Co., Ltd

Ishida Co., Ltd.

Jatco Ltd.

Kashifuji Works Ltd.

Komatsu Ltd.

Kubota Corp.

Lithium Energy Japan

Maxell Holdings, Ltd.

Mitsubishi Heavy Industries Ltd.

Mitsubishi Motors Corp.

Mitsubishi Paper Mills Ltd.

Murata Manufacturing Co., Ltd.

Nissin Electric Co., Ltd.

NSK Ltd.

Omron Corp.

Panasonic Corp.

Shimadzu Corp.

Starlite Co., Ltd.

TMT Machinery Inc.

Tokyo Electron Ltd.

Toray Industries Inc.

Doshisha University

Kyoto Institute of Technology

Kyoto University

National Institute of Advanced
Industrial Science and Technology

Okayama University of Science

Osaka Institute of Technology

Osaka Prefecture University

Osaka University

Ritsumeikan University

The University of Shiga Prefecture