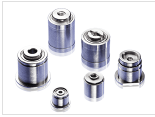 Features


The World's Largest Manufacturer--Minebea has a global market share in excess of 65%.
Internal Sourcing of All Parts--All parts - ball bearings, shaft and sleeves - are manufactured in-house, giving Minebea an unmatched advantage in terms of quality, supply capabilities, cost-competitiveness and speed of delivery. Bang Pa-in plant in Thailand for global markets employ the Minebea's vertically integrated manufacturing system, where by all processes, from the production of parts to final assembly are done in-house.
Ultra-precision Machining Technology--This product capitalizes on Minebea's ultra-precision machining technologies cultivated by production of ball bearings. And these technologies are at work in fluid dynamic bearings - essentially the same structure as that of pivot assemblies.