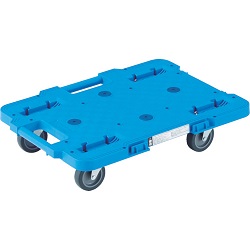 Main Features
Can be connected vertically and horizontally. (Vertical connection is possible only with all flexible casters (including those with stoppers).
Stacking is possible.
The cargo bed has a robust ribbed structure.
It is not easily affected by chemicals or solvents and has excellent durability.
Four anti-slip rubber pads are provided on the platform.
The corner stopper for Route Van MP-600 can be installed. (MPB-600 series)
Elastomer resin wheels are used to reduce the risk of tire marks.
Optional fence can be installed to prevent load collapse. (When loading lightweight materials)
Specifications
| | |
| --- | --- |
| Completed product | |
| Caster mounting method | Boltless specification |
| 4 self-supporting casters | |
| Flat carriage | |
| Caster diameter | 75mm |
| Equal load | 100kg |
| Color | Blue |
| Length | 615mm |
| Width | 415mm |
| Height | 115mm |
| Caster diameter | 75mm |
| Wheel material | elastomer resin |
Materials
| | |
| --- | --- |
| Cargo bed | 100% recycled polypropylene (PP) |
| Caster fittings | Steel (trivalent chromium plating) |
| Wheel | Polypropylene (PP) resin |
| Tires | elastomer resin |