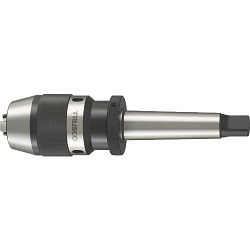 Main Features
Since the keyless chuck and MT shank are integrated, you can save the trouble of installing.
No chuck handle is required, and the drill can be attached and detached simply by turning it by hand.
It is an internal design that naturally increases the grasping force when centrifugal force is generated in the direction of spindle rotation.
Chuck arbor is a hardened and polished product.
Use
It is mainly attached to a drilling machine, etc., and a drill is attached.
Specifications
| | |
| --- | --- |
| Runout accuracy | 5/100 mm or less |
| Grasping ability (mm) | 0.5-13 |
| Overall length (mm) | 183.9 |
| Connection taper | MT2 |
| Outer diameter (mm) | 50.5 |
| Accuracy (mm) | 0.05 |
| Mass / mass unit | 1.15kg |
| Set contents / accessories | Hook spanner |