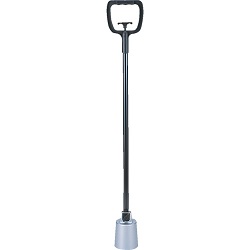 TRUSCO
THM-7 Hand Magnetic Finder
This product is for field work, outdoor repair work,etc.
Ask for price
Features
Easy to use with one action of suction and release.
It can pick up scattered screws, parts, scrap iron, and iron pieces.
The handle is movable, so it can be used at any angle (0-90 degrees).
The long handle can pick up iron powder and scrap from deep places.
Pull the lever on the handle to release the object easily.
Uses
Field work
Outdoor repair work,etc.
Specifications and standards
| | |
| --- | --- |
| Adhesion force (N) | 30 |
| Width (mm) | 96 |
| Depth(mm) | 105 |
| Height (mm) | 960 |
| Material | Magnet: Ferrite magnet |
| Body | Carbon steel |
| Adsorption surface | Aluminum alloy |
| Weight/Mass unit | 1.6kg |