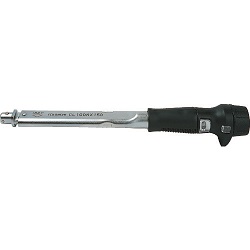 tohnichi
CL25N5X10D Adjustable type Torque Wrench
For tightening various kinds of bolts on production lines.
Ask for price
Features
Highly durable CWT paper impregnated with oil for excellent water resistance, and can be used for a wide range of applications from hard work to finishing.
Silicon carbide abrasive grains are applied evenly to achieve high surface finish accuracy.
Uses
By exchanging heads, the wrench services a variety of applications from open end spanner, ring, ratchet, hex heads, and more, with a single wrench.
A clear "click"sound signals tightening completion upon reaching the set torque.
Torque setting is easy to adjust by knob and scale.
CL2N to CL25N5 models have a resin grip with large built-in scale.
can be used with interchangeable adjustable heads (AH) (monkey wrench type).
Specifications
| | |
| --- | --- |
| Torque range (N・m) | 5~25 |
| Minimum scale (N・m) | 0.2 |
| Insertion angle (mm) | None |
| Overall length (mm) | 216 |
| Applicable replacement head | (SH, RH, QH, HH, DH, AH)10D |
| Torque accuracy | ±3 |
| Load direction | Right |
| Weight (kg) | 0.3 |