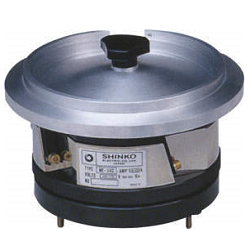 sinfonia
HME-14 Mini parts feeder
High-speed, high-precision handling of micro-sized parts and electronic chips. Compact design and versatility to handle a wide range of small parts.
Ask for price
Introduction
Designed for the automatic conveyance and stable delivery of delicate components that are easily scratched or damaged, these feeders provide high-speed, high-precision parts handling
With the fine vibration of full wave drive and a soft start function, all types of tiny parts for cameras, watches etc. can be handled. Compact design takes up minimal space.
Features
| | |
| --- | --- |
| Smooth, reliable, orderly presentation of tiny, thin parts | High vibration frequency and small amplitude allow for the orderly delivery of micro-sized, thin and complex-shaped parts, which is hard to achieve with conventional feeder vibration characteristics. |
| Highly accurate sorting and conveyance | Bouncing of workpieces during conveyance is reduced, and evenslight variations in shape and weight distribution of small parts can be detected for accurate sorting. |
| No problems at connecting points | With little vibration displacement, there is no damage to workpieces caused by gaps between bowl and chute or chute and non-vibratingparts. |
| High vibration frequency gives high speed delivery | High vibration frequency conveys workpieces smoothly, speedily and with no resistance, to supply a stable quantity with little variation, for a significant improvement in efficiency. |
| No readjustment of leaf-spring necessary | Once set, leaf-spring requires no further adjustment. With feedback control for amplitude, c hanges over time in voltage or load do not cause fluctuations in vibration. |
| Compact design, with a height adjustment function | Down-sized design for maximum space-saving, with a vibro-isolating base. Bowl height can be adjusted within 3 mm range to simplify positioning. |
Specifications
| | |
| --- | --- |
| Rated voltage | 100/110V |
| Rated current | 0.50A |
| Vibration frequency | 220~360Hz |
| Weight | 7.8kg |
| Loaded weight | 2.0kg |
| Max.bowl diameter | φ230 |
| Compatible standard controller | C10-1VF, C10-1VFEF, C9-03VFTC |