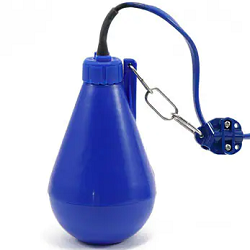 Main Features
This model is an environmentally-friendly no-mercury structure.
Useful for potable water, wastewater and sewage containing suspended solids.
Strong for corrosion or rust even when immersed in a corrosive liquid.
It alse can be used for liquids containing fresh water, sewage, or some floating contaminants.
Part of the parts in contact with the liquid is made of stainless steel and the majority of the parts are made of polypropylene, which reduces the effects of rust and corrosion and allows the switch to be used for a long time.
Specifications
| | |
| --- | --- |
| Model | LC12 |
| Switch | Micro switch |
| Specific gravity of liquid | 0.95~1.15 |
| Liquid temperature | 0~60℃ |
| Voltage | AC/DC30V or under |
| Max operable current | 5A |
| Cable length | 6m, 13m, 20m (with cable extensions in 10m increments) MAX. length 100m |
| Cable type | 0.75mm2×3 cores, Flat type |
| Weight (including cable) | 6m:1.2kg, 13m:1.6kg, 20m:2.0kg |
| Material | Case:Polypropylene resin, Cable:PVC, Others: Chain: 304 stainless steel |