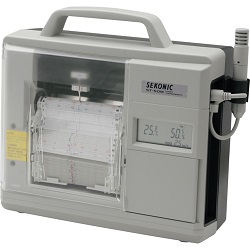 Main Features
Displays and records temperature and humidity simultaneously.
With an electronic sensor of excellent responsiveness, it has been given a compact body for indoor installations.
Best suited for general environmental measurement, and monitoring in greenhouses, storage warehouses, laboratories and so on.
Can be stored on SD card.
Durable for 6 months continuous recording with batteries(LR20 X 4)
No need to change chart paper.
Sensor extension is possible (5m, 20m, or 50m extension cable is available).
Can be used with either an AC adapter or a single dry cell battery(×4).
The sensor can be easily calibrated by operating the user calibration key.
Specifications
| | |
| --- | --- |
| Measurement methods (Temperature) | Semiconductor Sensor |
| Measurement methods (Humidity) | High Molecular Electrostatic Capacity Sensor. |
| Measurement ranges(Temperature) | -20 to 50℃ / -4 to 122゜F / -20 to 80℃ / -4 to 176゜F(with sensor Extension Cable) |
| Measurement ranges(Humidity) | 20 to 90%RH(No Condensation)/ 0 to 100%RH(with Sensor Extension Cable, No Condensation) |
| Memory recording | SD memory card: 128MB to 2GB |
| Save format | Comma-separated text file (CSV format) |
| Display contents | Temperature and relative humidity |
| Chart speed | 4 levels (2.5mm/h, 5mm/h, 10mm/h, 20mm/h) |
| Recording paper feed | 2.5mm/h=about 6 months, 5.0mm/h=about 3 months, 10mm/h=about 1.5 months, 20 mm/h = approx. 20 days |
| Power Source | 4 x AAA batteries (sold separately), AC adapter (sold separately) |
| Width x Depth x Height | 300 x 105 x 245 mm |
| Weight | 2.3kg |
Accesories
Sensor Extension Cable( 5 m / 16.40feet, 20m / 65.62feet, 50m / 164.04feet)
Chart Paper( 5 Sheets / Box)
Chart Pen( 2 Blue & 2 Red pens)/ Box
User's manual (including warranty card)