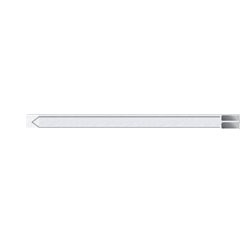 Main Features
It is easy to measure the temperature by attaching the sensor to the desired location.
Thin Film Type K Thermocouple Temperature Sensor avialable in thickness of 0.34mm
Ideal for measuring temperature of small object by pasting on its surface.
Ideal for inserting between two touching surfaces with Exposed-Tip Type.
Polyimide(PI)Insulation Type for applications where electrical insulation is needed.
The heat capacity of the sensor itself is very small, so the temperature of a small area can be measured instantly.
Rapid response is best suited for temperature profiling.
Specifications
| | |
| --- | --- |
| Product Type | Thermometer (External Sensor Type) |
| Measurement temperature range | 0~300(℃) |
| Accuracy | ±1.3°C (when measuring copper metal surface at 100°C) |
| Size | 107x6.7x0.34 mm |
| Material | Glass nonwoven fabric (glass fiber tape), silicon adhesive |