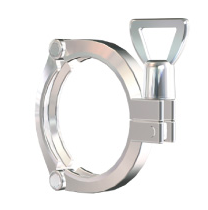 Main Features
ISO standard clamped union joints are assembled by sand- wiching and clamping the gasket between the ferrule. When tightened, the union joints makes the inner surface of pipe and the seal surface come closely into contact.
The welded clamped union is joined to the sanitary pipe by argon arc TIG welding. Inside and outside diameters of the portion to be welded conform to the inside and outside diameters of the JIS G 3447 stainless steel sanitary pipe.
The expanded clamped union is used to expand a pipe by a tube expander for subsequent joining of the joint.
Working Pressure
| | |
| --- | --- |
| Welded type | Please refer to the separate volume fittings technical information p.3-99-8. |
| Expanded type | 0.2MPa or less |
Specifications