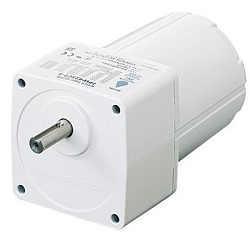 Feature
Watertight and Dust-Resistant Performance IP67
The FPW Series motors are watertight, dust-resistant geared induction motors which conform to the IEC Standard IP67. They can be used where they are splashed with water, but they are not suitable for use under high pressure jets of water or immersion in water.
Improved Anti-Corrosion Properties
High corrosion resistance is achieved through special anticorrosive coating and re-examination of shaft material [stainless steel (SUS303 type)].
Designed and Constructed for Watertight and DustResistance
Conform to Safety Standards
The FPW Series is recognized by UL/CSA Standards and conforms to CE Marking (Low Voltage Directive). These motors are also certified under the China Compulsory Certification System (CCC System).
RoHS-Compliant
The FPW Series conforms to the RoHS Directive that prohibits the use of six chemical substances including lead and cadmium.