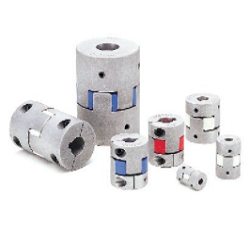 Main Features
Flexible jaw type coupling.
Tight fit enables zero backlash transmission at low torque.
Easy fit allows easy assembly and division of the hub.
Excellent flexibility.
Absorbs torsional vibration in addition to eccentricity and angular misalignment.
Excellent electrical insulation.
Resistance: 2 MΩ or more.
Four different sleeve hardness are available.
Select the one that best suits your application conditions, such as torque and misalignment.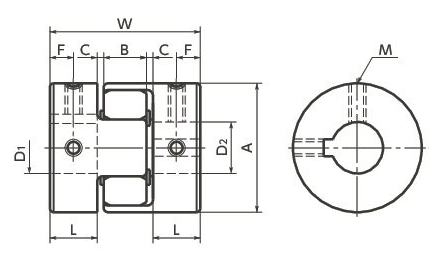 Specifications
| | |
| --- | --- |
| Standard shaft hole diameter | D1~D2: 10mm~25mm |
| Working torque(N・m) | 17 |
| Max torque(N・m) | 34 |
| Backlash 0 allowable transmission torque(N・m) | 1.2 |
| Maximum speed(min) | 15000 |
| Moment of inertia(kg・㎡) | 3.6×10-5 |
| Torsional spring constant(N・m/rad) | 1200 |
| Allowable eccentricity(mm) | 0.1 |
| Allowable Eccentricity(°) | 1 |
| Allowable End Play(mm) | 0~+1.2 |
| Sleep Hardness | A98 |