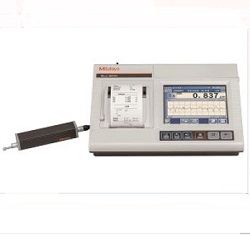 Details:
Features
Easy to use
[Large color graphic LCD]
The color touch-screen provides excellent readability and an institutive display that is easy to negotiate. The LCD also includes a backlight for improved visibility in dark environments. The integrated printer allows you to print measuremnt results on the spot.
Highly functional
[Internal memory]
Up to 10 measurement conditions and one measured profile can be stored in the internal memory.
[Optional memory card]
The optional memory card can be used as an extended memory to store large quantities of measured profiles and conditions and adds the convinience of automatically saving data from the 10 most recent measurements.
[Password protection]
Access to each feature can be password-protected, which prevents unintended operations and allows protection of your settings.
[Multilingual support]
The display interface supports 16 languages, which can be freely switched.
[Stylus alarm (patent pending in Japan, U.S.A.,EU)]
An alarm warns you when the cumulative measurement distance exceeds a preset limit.
Extensive analysis and display features
[Complies with many industry standards]
The Surfest SJ-210 complies with the following standards:
JIS (JIS-B0601-2001,JIS-B0601-1994, JIS-B0601-1982), VDA, ISO-1997, ANSL.
[Displays assessed profiles and graphical data]
In addition to calculation results, the Surfest SJ-210 can display sectional calculation results and assessed profiles, load curves, and amplitude distribution curves.
Enhanced power for making measurements on site
Despites its reduced charging time-approximately 1/4 that required for conventional models,the Surfest SJ-310 is capable of making approximately 2.5 times the number of measurements when fully charged. The detector supports a variety of measurement orientations and can make measurements up against a wall surface or while facing upward. When combined with optional accessories such as a height gauge adapter , the detecter can make measurements in various orientations and settings.