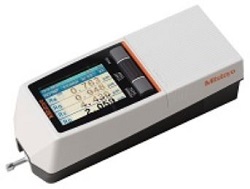 Details:
Features
Easy to use
[2.4-inch color graphic LCD with backlight]
The color LCd provides excellent readability and an intuitive display that's easy to negotiate.
[Simple key layout]
The Surfest SJ-210 can can be operated easily using the keys on the front of the unit and under the sliding cover.
Highly functional
[Advanced data storade capabilities]
Up to 10 measurement conditions and measured profile can be stored in the initial memory.
[Optional memory card]
An optional memory card can be used as an extended memory to store large quantities of measured profiles and conditons.
[Password ptotection]
Access to each feature can be password-protected, which prevents unintended operations and allows you to protect your settings.
[Multilingual support]
The display interface supports 16 languages, which can be freely switched.
[Stylus alarm (patent pending in Japan)]
An alarm warns you when the cumulative measurement distance exceeds a present limit.
Extensive analysis and display features
[Complies with many industry standards]
The Surfest SJ-210 complies with the following standards:
JIS (JIS-B0601-2001,JIS-B0601-1994, JIS-B0601-1982), VDA, ISO-1997, ANSL.
[Displays assessed profiles and graphical data]
In addition to calculation results, the Surfest SJ-210 can display sectional calculation results and assessed profiles, load curves, and amplitude distribution curves.