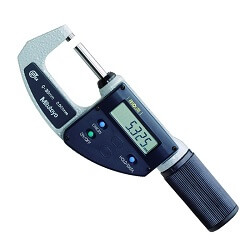 Details:
Features
The Quickmike provides a speedy spindle feed of 10mm per thimble rotation as compared to the conventional micrometer with 0.5mm per rotation. Its wide 30mm measuring range allows various workpieces with different shapes to be measured quickly.
Non-rotating spindle and the new ratchet friction thimble.
Speedy spindle feed of 10mm/rev.
With absolute linear scale.
IP54 dust/water protection (when not connected with data output cable).
With SPC data output.
Supplied in fitted plastic case.
Technical Data
Resolution: 0.001mm
Flatness: 0.3µm
Parallelism: 2µm
Measuring faces: Carbide tipped
Display: LCD
Battery: SR44 (1 pc.), 938882
Battery life: Approx. 5 years under normal use
Dust/Water protection level: IP54

Function
Origin-set, Zero-setting, Data hold, Data output
Alarm: Low voltage, Counting value composition error