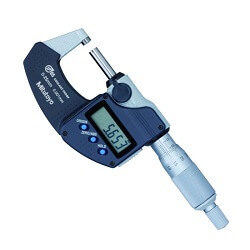 Details:
Features
Twice as long battery life as before and drastic improvement in measurement efficiency
IP65 protection level, enabling use in environments exposed to cutting oil, etc*.
*Anti-corrosion treatment is required after use.
Measurement data output function is available with a water-resistant connection cable.
Auto power ON/OFF function. • Certificate of inspection* is included.
*It is not the type used to obtain calibration certificates.
Supplied in fitted case.
Technical data
Accuracy: ±1 µm
Resolution: 0.001mm
Flatness: 0.3µm
Parallelism: 1µm
Measuring faces: Carbide tipped
Display: LCD
Battery: SR44 (1 pc.), 938882
Battery life: Approx. 2.4 years under normal use
Dust/Water protection level: IP65

Function
Origin-set, Zero-setting, Automatic power on/off, Data hold,
Data output,
Alarm: Low voltage, Counting value composition error