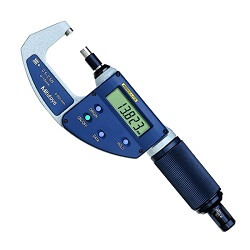 Details:
Features
Constant and low measuring force mechanism in the thimble.
Adjustable measuring force* accommodates various kind of work materials. *0.5-2.5N
The measurement-value hold function automatically retains the data at a specified measuring force, ensuring accuracy.
Non-rotating spindle and the new ratchet friction thimble.
Speedy spindle feed of 10mm/rev.
With absolute linear scale.
With SPC data output.
Supplied in fitted plastic case.
Technical Data
Accuracy: ± 2 µm
Resolution: 0.001mm
Flatness: 0.3µm
Parallelism: 2µm
Measuring faces: Carbide tipped
Display: LCD
Battery: SR44 (1 pc.), 938882
Battery life: Approx. 5 years under normal use

Function
Origin-set, Power ON/OFF, Data hold, Data output
Alarm: Low voltage, Counting value composition error