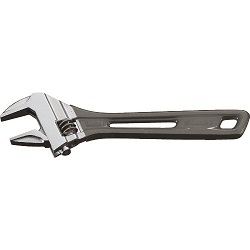 Features
It fits easily in your hand and is excellent for working in tight spaces and using thin bolts and nuts.
It is 60% lighter than conventional products with the same opening and has a bold form that reduces hand fatigue.
The wide mouth opening can accommodate bolts and nuts one size larger than usual.
Available in six different colors. Six colors of grips are available for convenient management at each workplace.
All of LOBTEX adjustable angle wrenches including the hybrid adjustable wrench are made in Japan, and can be reliably and safely used.
Specifications
| | |
| --- | --- |
| Model code | UM24S |
| Color | Smoke |
| Length (mm) | 150 |
| Mouth opening (mm) | 0~24 |
| Maximum mouth opening (mm) | 24 |
| Tip thickness (mm) | 5 |
| Max. bolt and nut size | M16 |
| Material | Special steel |
| Weight | 90g |