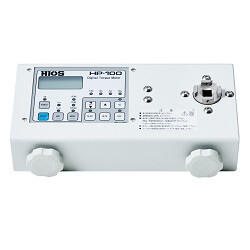 Details:
However high the quality of your screwdriver, you cannot make full use of its potential unless you know the right amount of torque for each job and make sure that is the torque being delivered. With a Hios digital torque meter you can make torque settings on screwdrivers, check torque wrenches or make torque measurements of various kinds of rotation tools. With an optional attachment, it is also possible to transfer measurement data to a computer for use in integrated production management systems.
Applications
Torque measurement of power screwdrivers, torque drivers and torque wrenches
Certification of performance of torque tools
Torque measurement of other kinds of rotation tools (may require adapter)
Examples of uses of torque measurement data

Reference for preparation of tap screw counterbore diameters
Sorting screws by required torque values
Classifying jars by screw cap tightness
Destructive testing of small parts
Quality control of plastic screw threads and plastic parts
Features
Up to 100 data measurements can be stored in memory at a time.
Checks maximum, minimum and average torque measurements.
Torque value display can be automatically reset to zero.
Torque value display is automatically recalibrated.
Values are displayed digitally for ease and accuracy in reading out data.
Peak torque values are frozen until the display is reset to insure accuracy when setting the torque of instruments.
Can be set for rotation in either direction, for easy measurement of both tightening and loosening torque.
Counterclockwise torque measurement is indicated by a minus sign in front of displayed values.
The strain meter is directly attached to the torque sensor as part of the instrument's simple, rugged design.
Can be integrated into a statistical process control system.
Small, light and operated by rechargeable battery, this instrument is highly portable.
Data can be output analogically either as waveforms or numerical printouts for a wide range of uses. (Requires optional analog cord.)
An input tool is available to make possible transfer of measurement data to a computer.
Comes with an AC adapter that can be used with 100 − 240 volt power sources. Runs on an environment-friendly nickel-hydrogen battery.