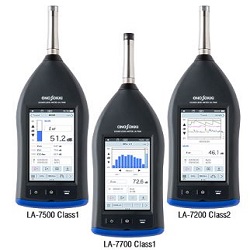 Features
Easy Option!

4.3inch(size for a smart phone), color display: Displays overlapping graph with clarity

At one-touch operation: Recording and data storing are started just by tapping with a finger.

Listening function: You can find the place from which the sound is occurring by turning the microphone (sound level meter) toward the sound. (It is also possible to listen only to the specified range of the sound.)



Easy to hold!

Compact: Compact and easy-to-hold design (35 % of size reduction in volume compared to the previous model)

Strap for potable use:The strap provided as an accessory prevents the sound level meter from slipping down.



Easy to use!

Intuitive operation by a touch panel: It provides intuitive operation in easily understandable manner by even a beginner touching the sound level meter for the first time.

Home key: Home button leads you to the home screen.

Language selection: selectable display language from English amd Japanese

Capturing function: Capture image information by pressing power key and home key simultaneously.

Power supply from USB---Enables long-time measurement: 12 hours of continuous operation: alkaline battery cells (size AA, 4 pcs.) used. Micro USB can be used. The USB consumption takes priority when alkaline battery cells are used in combination with an USB.

Windscreen correction function: When using a sound level meter with a windscreen, this function compensates for the affect of attaching. (Conforming to IEC 61672-1) It can be used without correction.

External power ON/OFF function---useful for built-in measurement: Easy ON/OFF operation by switching a battery box.