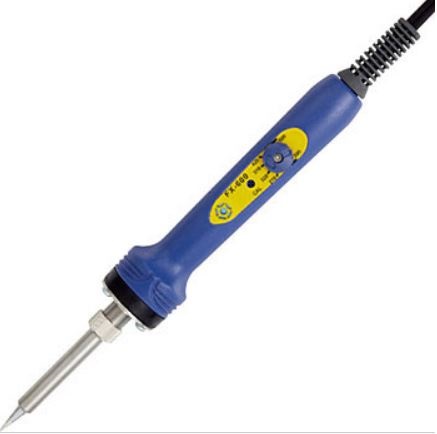 Features:
Best suited for soldering of electronic component.
Soldering of IC/LED and P.W.B.,etc.
Superior heat conductivity
T18 series soldering tips feature an redesigned appearance and internal structure that deliver improved heat conductivity. Use these soldering tips to achieve great heat recovery without increasing power consumption. LED informs you when the set temperature has been reached.
Turn CAL to have more accurate temperature.
Adjust the temperature easily with the control knob.
Features a temperature controller built into the grip. Easily adjust the temperature with a simple turn of the knob.
Convert FX-600 to a high heat capacity FX-601 using interchangeable parts.
Reduce costs by converting to either model using interchangeable parts (Tip enclosure with Nut/Soldering Tip).