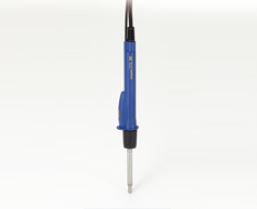 Features:
Work with FM-206, which has a large LCD panel. Hot air handpiece for use with FM-206, a compact multi-rework station that enables simultaneous use of three handpieces.



Securely and easily remove 10 x 10 (mm) chips.



Control the air with a hand switch.


Connectable to a handpiece holder to control the air.
- Connect HAKKO FM-206 and the handpiece holder with a relay cord to turn off the air automatically when the handpiece is placed in the handpiece holder.
* Turn on the air again by operating the hand switch. The air does not turn on automatically when the handpiece is picked from the handpiece holder.


The nozzle is a built-in heater composite-type unit.
-The composite-type nozzle provides excellent thermal recovery and easy one-touch nozzle replacement. Heater replacement, which used to be difficult with the hot air-type, is no longer required.


Choose from four optional nozzles for different size work.