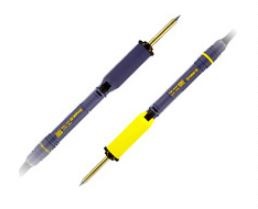 Features:
Applicable model;
- FM2027 is available for [FM-202 (discontinued)][FM-203][FM204][FM206].
- FM2028 is available for [FX-905][FX-951][FX-952].




The sleeve assembly has employed the lock type.
-The lock-type sleeve assembly can be attached securely to the connector cover. To remove the sleeve assembly, draw it out while holding down the lock part.




The sleeve assembly variation has now increased to four colors: yellow, orange, blue, and green.
-Tip shapes are identified by color, saving the time needed to check the shapes before work. Identifying the tip shapes by color prevents you from using the wrong tip carelessly. This identification method is especially useful when the shapes are the same but differ in size and because the C type differs from the CF type.