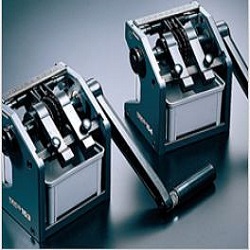 Usage
Cutting and forming for tape-type axial components and annealed copper lead wire.
Features
Easy to use - simply set the taped components in place and turn the handle. Ideal for processing tape-type components.
Improved, longer-life cutting blade for a clean, smooth cut.
Sealed bearings for longer service life and greater durability and efficiency.
Can be used for forming and cutting, forming only, or cutting only.
Caution;Components with kead frame (multangular lead) are unsuited.