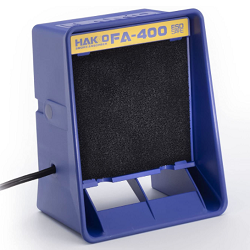 Main Features
Can absorb widespread smoke when it is Vertically mounted
Horizontally mounted could maintain Powerful absorption at closer area with high flow rate. Because of low height, it gives less shade keeping your working area light.
A third mounting position is also available with an optional arm stand when sufficient space cannot be found or to absorb smoke from upper areas
Packing list
Main unit
Filter [qty 1]
Instruction manual
Maintenance
The absorption force at the filter decreases gradually over time as the absorber is used. When the filter surface becomes completely white, the filter should be replaced.
Specifications
| | |
| --- | --- |
| Model No. | FA-400 |
| Power consumption | 50Hz : 15W (100V), 18W (110V), 19W (220V), 22W (230V), 24W (240V) 60Hz : 13W (100V), 15W (110V), 19W (120V), 16W (220V), 18W (230V), 19W(240V) |
| Noise level | 50Hz :48dB / 60Hz : 51dB |
| Max. suction capacity | Vertically : 1.0m3/min. (50Hz) / 1.1m3/min. (60Hz) Horizontally : 0.4m3/min. (50Hz) / 0.5m3/min. (60Hz) |
| Air velocity | Vertically : 1.0m/sec. (50Hz) / 1.1m/sec. (60Hz) Horizontally : 2.6m/sec. (50Hz) / 2.9m/sec. (60Hz) |
| Filter size | 130(W) ×130(H) ×10(D)mm |
| Dimensions | 166(W)×212(H)×113(D)mm |
| Weight (*Weight is measured without cord.) | 0.91kg |