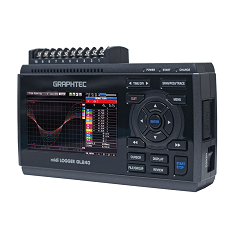 Details:
Wireless measurement using wireless LAN (option)
Wireless LAN option enables the wireless communication with other devices. When the GL240 is set as a station, PC and smart devices will be able to access the WLAN unit directly.
Combining GL100-WL and GL240
GL100-WL cab now be connected to the GL240 as a remote sensor using the WLAN feature. GL240 supports 1 unit of the GL100-WL.
All channel isolated/Universal input, Standalone Multi-Channel
Even though it has a compact format, the device contains an isolated input system which ensures that signals are not corrupted by inputs to other channels.
Maximum sampling interval of up to 10ms
Provides faster sampling rate 10ms for voltage measurement.
Built-in 4GB Flash memory with SD card support
The new GL series enables reliable long term measurment with its built-in 4GB flash memory and SD card slot for external storage devices. (Depending on the model.)
Useful functions
Various functions, such as a bar chart data display, alarm output function, and networking features are available.