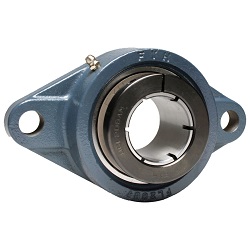 Features
The inner ring is fixed to the shaft by the NU-LOC system, which tightens the inner ring from all 360 degrees by means of concentric fixed rings.
It is oil-filled, has a small bore tolerance, and is equipped with a non-rotating outer ring.
NC type bearings are used, which can be easily installed with a standard hexagonal wrench.
This bearing housing has a rhombic flange shape with two mounting holes.
It is mounted vertically on the side of the machine.
Compared to the square flange type, the installation space is smaller.
Bearing housing processing
Combination with cover
Specifications
| | |
| --- | --- |
| Category | Flange unit |
| Shape | 2-hole rhombus flange |
| Shaft diameter | 20mm |
| Load application | Normal load |
| Body material | Cast iron |
| Operating environment | Standard |
| Fixing method | Concentric fixed ring |
| Set contents | Main body, nipple |