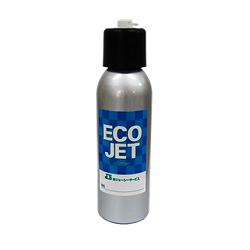 Main Features
It is safe because it does not use explosive injection media, which are used in most general aerosol cans.
It can be pressurized with air from a compressor, nitrogen, carbon dioxide gas, etc. (pressure 0.5-0.7Mpa) and used repeatedly, making it economical.
It can be used for spraying water-soluble and solvent-based liquids as well as air blowing without electric cords or air hoses.
All parts of the main body are of sufficient strength and safety construction with excellent corrosion resistance.
No more worries about disposing of empty cans.
Can be used upside down.
Specifications
| | |
| --- | --- |
| Body container | 550ml |
| Diameter | 67mm |
| Height | 205mm |
| Weight | 120g |
| Material | Aluminum |
Instructions for use
| | |
| --- | --- |
| | 1.Press the spray button to see if there is any compressed air remaining. If any remains, bleed compressed air according to the instruction manual. |
| | 2.Open the spray cap (black screw cap). |
| | 3.Fill a spray can with 200-400ml (maximum 400ml) of the pre-measured undiluted liquid to be used. |
| | 4.Close the spray cap. |
| | 5.Set the spray can in the dedicated air station. (Maximum working pressure: 0.8MPa) |
| | 6.Hold the spray can against the air station for several seconds. |
| | 7.Remove the spray can from the air station, point the jet toward the sprayed surface, and spray 20 to 40 cm away from the surface. |
Any light liquid can be used(please use light liquid with viscosity of 22mm2/s or less)
Parts Cleaner
Grease
Various lubricants (CR-C etc.)
Liquid wax
Staining test solution
Disinfectant
Cutting oil
Rust inhibitor
Mold release agent
Spray Nozzle(Select the nozzle that best suits your application.)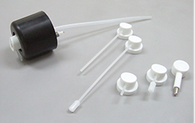 General-purpose mist type
Nylon mist nozzle (short)
Nylon mist nozzle (long)
Nylon nozzle (short)
Nylon nozzle (long)
Relief valve and its operating mechanism diagram