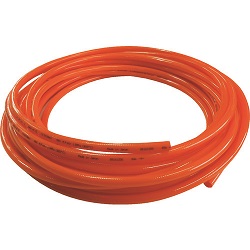 Main Features
Uniform implantation of a sturdy nylon reinforcement produces out-standing durability.
Just insert the ribbed taper into the hose and tighten the cap nut.
Excellent flexibility. Softer than nylon tube and with rubber-like elasticity so bending radius is extremely small, thus, fatigue resistance to bending is very great.
Superior mechanical strength and excellent abrasive resistance.
Superior heat and cold resistance.
Oil resistance.
Light Weight
Specifications
| | |
| --- | --- |
| Working pressure | 1.5MPa |
| Outer diameter (mm) | 10 |
| Color | Orange |
| Inside diameter (mm) | 6.5 |
| Overall length (m) | 50 |
| Wall thickness (mm) | 1.75 |
| Fluid used | Compressed air |
| Weight | 2.75kg |
| Materail | Polyurethane |