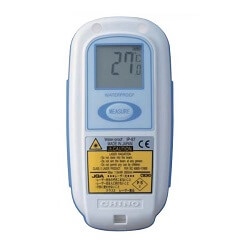 Details:
The device is waterproof, therefore it can be washed in case it gets dirty. (It has an IP67 dustproof and waterproof structure).
Antibacterial ABS resin is used for the enclosure of the device.
Shock-resistant. (It can be dropped from 1m to a vinyl floor without breaking it.)
Automatically turns itself off if left alone for a while to avoid wasting the battery-life.
HACCP, ISO9000 and ISO14000 compatible traceability certificate can be issued (for an extra price).
Specifications:
| | |
| --- | --- |
| Measuring Temperature Range | -40℃ to 300℃ |
| Detecting Element | Thermopile |
| Accuracy Rating | ±1% ±1digit of measured value or ±2℃ ±1digit, whichever is greater. However, ±3℃ ±1digit between -30℃ to 0℃, ±5℃ ±1digit (ε=1.0, at ambient temperature 25℃ ±2℃) for -30℃ or less. |
| Repeatability | Within 1℃ ±1digit |
| Response Speed | 1sec. (90% response) |
| Measuring Diameter/Measuring Distance | ⌀45mm (at measuring distance 500mm) |
| Collimation | Center point is indicated by laser beam . Laser beam output is 1mW or less, 650nm (JIS class 2) * Conforms to Consumer Product Safety Act/Portable laser Devices (PS/C mark) |
| Display | Reflection type LCD, 3-digit |
| Display Resolution | 0.5℃ (between -19.5℃ to 99.5℃), 1℃ for -20℃ or less and 100℃ or more |
| Display Contents | Measured value, Measuring unit (℃), Low battery symbol, Laser output status, Display other than emissivity 0.95 |
| Auto Power OFF Function | Power supply turned OFF after approx. 30sec. after last key operation. |
| Emissivity | 0.95 (It can be changed within 0.80 to 1.00 by 0.05 step by an internal switch.) |
| Working Temperature Range | 0 to 50℃, 90%RH or less (No dew condensation) |
| Power Supply | Alkaline battery, type R03 (AAA), 2pcs (Battery life is approx. 10hr. under continuous use) |
| Case Protecting Structure | IP67 (Washable) |
| External Dimensions/Weight | W59.6×H119.6×D54mm, Approx. 123g (including batteries) |
| International Safety Standard | CE marking/EN61326-1 Class B |