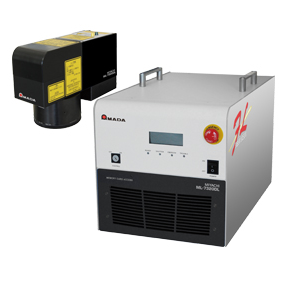 Details:
The ML-7320DL/7350DL is a fully-air cooled fiber laser marker and the best suited for marking on metal parts, engraving on aluminum and stainless steel. As the beam quality improves from that of the conventional models, marking quality becomes much better than before. Great oscillation efficiency, which is one of the characteristics fiber laser has, supports saving of energy. Its 50W oscillator makes marking speed high and contributes to improvement in productivity. In addition, the marking software installed is LM Draw 6 which is compatible with the conventional models. No troublesome work is necessary at replacement of the unit.
Features:
The highest power oscillator in AMADA MIYACHI's fiber laser markers enables high-speed deep engraving of aluminum and stainless steel.
Improved beam quality makes marking more precise.
Compact head unit. Space saving.
High performance marking software LM Draw 6.
CF card slot is equipped. It makes it easy to transfer, share and save the data used in the previous models.
Multiple axes stage control with an optional motion control of X, Y, Z and θ axes.
Lower maintenance cost according to full air cooling and low power consumption.
Long-life LD unit reduces maintenance costs.
IP5X structure.
CDRH, CE and RoHS certified.
Advantages
Well-received marking software LM Draw 6 dedicated for DL series is equipped.
High quality beam quality
Compact head unit