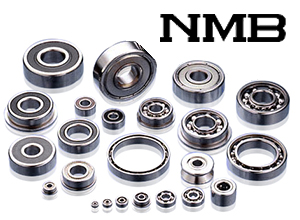 Features:
The World's Largest Manufacturer Minebea's main product line is ball bearings. We are the world's leading manufacturer of miniature and small-sized ball bearings, up to 22mm in external diameter, and has a global market share in excess of 60%. These bearings are mainly at work in information and telecommunications equipment, household electrical appliances and motors for electric control systems of automobile.
A Broad Range of State of The Art Products Minebea manufactures more than 8,500 different types of miniature and small-sized ball bearings, most of which have external diameters of 22mm or less. In addition to such specialized products as integrated-shaft ball bearings, Minebea manufactures fluid dynamic bearings, for which demand is expected to soar in the future. We are thus positioned to respond to demand for a broad range of state-of-the-art small bearings for high-precision motors and other applications.
Ultra-precision Machining Technology The precision of a ball bearing is determined by several factors, including the raceway roundness of the inner and outer rings, the sphericity of the balls and the quality of the balls and the quality of the raw materials used in each of the bearing's parts. Improving precision demands uncompromising strictness on all counts. Building on expertise amassed over 50 years, Minebea has developed high-precision machining equipment, sophisticated maintenance technologies and efficient plant-line layouts, enabling it to produce all parts for its bearings in-house and to aim constantly for higher levels of precision.
Consistently Superior Quality Worldwide Minebea currently has 10 bearing plants worldwide, all of which conduct vertically integrated production, which encompasses all processes, from machining to final assembly and testing. These plants also utilize mass-production technologies and production lines developed at Minebea's parent plants in Japan. As a consequence, Minebea is able to guarantee products of consistenly superior quality from all of its bearing plants.
Global R&D Activity R&D centers located within Minebea's parent plant in Japan, Thailand and Singapore conduct chemical analysis, cleanliness evaluation of products. And we have facility for evaluation and testing of products for use in automobiles.