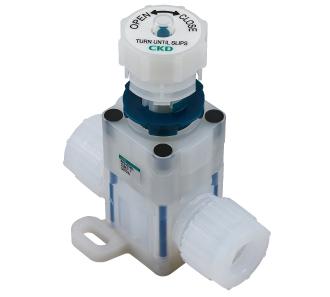 Features
【Working pressure range extended】 Working pressure range expanded compared to the conventional Part 2 Series. Common operating pressure at ports A and B.
【Extended fluid temperatures for standard products】
【Supports a variety of liquids as standard specification】 The use of highly chemically resistant polyvinylidene fluoride (PVDF) for the actuator enables support for a wide range of applications as standard, regardless of acidity or alkalinity.
【Seal damage prevention】 Handle with overtightening prevention mechanism When the seal is appropriately tightened, the handle spins loosely and prevents overtightening.
【Malfunction prevention】 Prevents unintended handle opening/closing due to vibration, etc.