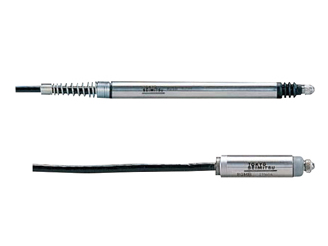 Details:
Features
By using contact measurement, destabilizing elements in the object and ambient conditions, such as color, reflection, water, oil or other things, do not effect measurement allowing an accurate measurement of the dimensions.
Wide variety of variations: Waterproof, small size, long displacement etc.
Low measuring force type: Lever type is 20 mN, spindle type is 0.1 N
Retraction type: used for measuring delicate materials such as class, plastic and others: air is used for positioning the workpiece to relieve the contact.

Product Type
Normal type: E-DT-80SC measuring range of 2.2 mm, E-DT-80MC measuring range of 1 mm.
Waterproof type: IP67 standard, E-DT-80SC-901 with a strong track record in factory environments.
Medium displacement type: E-DT-80LA for easy workpiece positioning (10 mm stroke).
Long displacement measuring type: 11 mm stroke, measuring range 10 mm specification E-DT-8010A.
Lever type: E-DT-LM supports low measuring force and high precision used in roundnessmeasuring devices. -S type (E-DT-LM-S) with higher precision linearity 0.2% is also available.